Saya melihat cermin …. DUG! Seketika itu jantung saya mau copot!
Di belakang saya ada seorang wanita sedang duduk di sofa! Dia duduk sambil kepalanya menunduk, tertutup rambutnya yang panjang! Saya langsung teringat film hantu Sadako yang pernah saya tonton. Oh, no!
Temukan sensasi baru menyimak kisah perjalanan ke-10 traveler dengan latar belakang yang beragam ini. Dalam pengalaman mereka, masing-masing terselip bonus kenangan tidak mau diingat-ingat lagi. Dari bermalam di sebuah kota mati di Jepang, merasakan hawa janggal dan suara-suara parau memanggil kala mendaki gunung api di Pulau Banda Neira, sampai pengalaman spiritual bertemu peramal misterius yang bikin merinding di Edinburg, Skotlandia.
Siap-siap buka mata, telinga, dan indra lainnya terhadap segala penampakan yang mungkin muncul dalam perjalanan.
Eh, ada apa itu di belakangmu?
—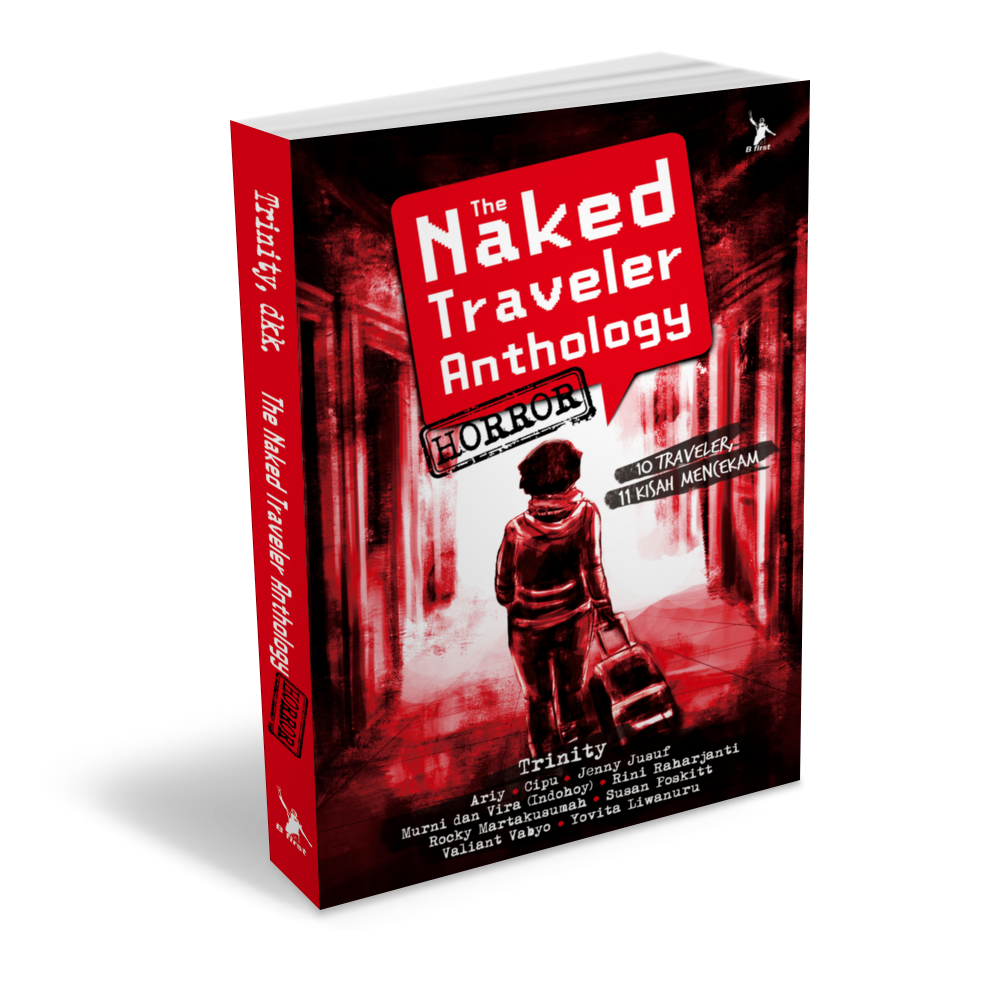 Itu dia sinopsis buku The Naked Traveler Anthology: Horror, buku saya yang ke-12! Sesuai dengan judulnya "anthology", artinya buku ini ditulis rame-rame. Selain saya, ada 9 travelers piawai lain yang heits banget di dunia traveling dan penulisan Indonesia. Mereka adalah @ariysoc (penulis 11 buku travel), @cipukun (penulis 3 buku), @jennyjusuf (Penulis Skenario Terpuji di Festival Film Bandung 2015), @indohoy (travel blogger ngetop), @riniraharjanti (penulis 6 buku travel), @rockyrockers (penulis 2 buku travel), @pergidulu (penulis 4 buku travel), @vabyo (penulis 12 buku laris), dan @jovitaayu (mantan presenter Jejak Petualang).
Kami menuliskan 11 kisah nyata perjalanan yang mencekam yang melibatkan manusia dan "makhluk lain". Siapa bilang kejadian mencekam itu cuma di Indonesia? Buku ini lokasinya mulai dari Bukit Lawang dan Banda Naira, sampai ke negara maju seperti Jepang dan Skotlandia! Get ready for goosebumps, adrenaline rush, terror, and to conquer your demons!
Diterbitkan oleh @BentangPustaka, buku setebal 192 halaman berwarna ini harganya Rp 54.000,00. Akan tersedia di toko-toko buku di seluruh Indonesia secara bertahap mulai 11 Oktober 2015. Acara launching-nya di Jakarta akan dikabari via socmed @TrinityTraveler. Jangan lupa hashtag-nya #TNTAnthologyHorror.
Supaya nggak ketinggalan, silakan Pre-Order (PO) pada 27 September – 6 Oktober 2015 di toko-toko buku online sebagai berikut: mizanstore.com, temanbuku.com, bukabuku.com, bukukita.com, bukubukularis.com, parcelbuku.com, kutukutubuku.com, lestaribookstore.com, katalisbooks.wordpress.com, pengenbuku.com, tokobaca.com. Semua buku yang PO akan langsung mendapatkan tanda tangan saya dan mendapat harga diskon sampai 20%. Buruan yaa karena persediaan terbatas!
Ayo beli supanya menyumbang duit traveling saya selanjutnya, biar jadi buku lagi The Naked Traveler 7! 🙂